Sometimes, a pair of authors get together and collaborate, and you (well, I) can't help but wonder: why on earth did they not do this before?
This time, the authors are Bob Shea and Lane Smith. Both are author/illustrators in their own right, with their own distinct styles. Both are often hilarious (see the Dinosaur vs. series and It's a Book, among others) and both have fan bases of their own. Why shouldn't they collaborate on a picture book?
Drywater Gulch has a toad problem. Not of the amphibian sort, but rather the law-breaking one.The Toad brothers have terrorized the town for too long. Then, one day, Sheriff Ryan rides into town (on a tortoise. It takes a while.). The mayor and the townspeople beg him to do something about the outlaws. And Sheriff Ryan does: Explains that the crimes are actually being done by... dinosaurs. In the process, he manages to trick the criminals
into turning themselves in. Because that's the kind of hombre Sheriff Ryan is.
At turn ridiculous, hilarious, and informative (it's chock-full of dinosaur facts), Shea's text will have readers (and listeners) giggling along. But it wouldn't go much of anywhere without Smith's illustrations. Done in shades of brown, it's the perfect compliment for the absurdity of Shea's text. The Toad brothers are drawn like old-time villains, and Sheriff Ryan
sports a ten-gallon hat worthy of John Wayne.
In short: a collaboration worthy of two accomplished authors.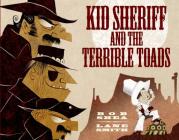 $18.99

ISBN: 9781596439757
Availability: Available to order! Usually Ships to Store in 3-5 Days.
Published: Roaring Brook Press - October 7th, 2014
---