Watermark Books & Cafe will host basketball player Mario Chalmers and Almarie Chalmers on Thursday, July 26 at 6:00 p.m. for a signing of ABCs of Basketball.
The event is ticketed. With the purchase of one book, attendees will get two numbered tickets to the signing.
Mario and Almarie will be only signing books purchased at Watermark, and no other items. Non-posed photos will be allowed, though photos may be taken while the Chalmers are signing.
Mario Chalmers' ABC's of Basketball is told through the voice of young "Rio" Chalmers, who realizes that nothing in life is out of reach. Originally conceived by Chalmers in high school when he dreamed of reaching the pinnacle of the sport, "The ABC's of Basketball" now serves as the foundation for his success. It will inspire young readers regardless of their skill level on the court to always believe in themselves, maintain a positive attitude, and work hard to achieve the loftiest of goals. Like Rio says, "Dream big, think big, play big!" It's a message that will inspire kids as well as adults.
Throughout his basketball career, Mario Chalmers has achieved a tremendous level of success: as a high school phenom in Alaska and Top-12 player in the nation; as a key member of the University of Kansas Jayhawks' 2008 NCAA National Championship team, where in the title game he hit two, now-legendary three-point shots; and finally in the NBA, where he won back-to-back titles with the Miami Heat and currently plays for the Memphis Grizzlies. Chalmers now showcases his skills as an author with Mario Chalmers' ABC's of Basketball, written with his mother, Almarie.
Thursday, July 26, 2018 - 6:00pm
Books: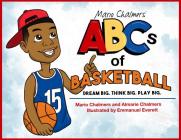 $15.95

ISBN: 9780998922492
Availability: This book may be unavailable. Please call us for price & availability: (316) 682-1181.
Published: Ascend Books - July 1st, 2018
---