The Size of the Truth (Sam Abernathy Books) (Hardcover)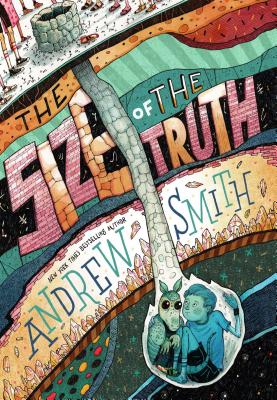 Staff Reviews
---
Signed copies available!
This is a very Andrew Smith book: delightfully weird, slightly off-kilter, and yet completely full of heart and soul. There's a talking armadillo (who may or may not be a figment of four year old Sam's imagination). There's another 8th grader, James Jenkins, who Sam's sure is going to kill him. But what it is really, is a reflection on figuring out who YOU are (and not who your parents or community want you to be) and what YOU want to do with your life. And then sticking up for it.
And it's absolutely perfect for those fourth-seventh graders who are just trying to figure things out.
— Melissa Fox
Spring 2019 Kids Indie Next List
---
"Andrew Smith has long been my favorite YA author, and his middle grade debut is magnificent. The Size of the Truth fills my heart to bursting. What does an 11-year-old boy do when he is afraid of disappointing his father, whose dreams for him are different than his own? Especially when he has no memory of the days he spent at the bottom of a well when he was four years old but lives with extreme claustrophobia (and annoying celebrity) as a result? And when the school jock, who he thinks could be a murderer, might just be something entirely different? Smith weaves a story of great heart, love, bravery, and promise with his signature humor and imagination (including a talking armadillo). Falling in love with this book is as easy as falling down a well."
— Kathy Adams, Valley Bookseller, Stillwater, MN
Description
---
A boy who spent three days trapped in a well tries to overcome his PTSD and claustrophobia so he can fulfill his dream of becoming a famous chef in Andrew Smith's first middle grade novel.

When he was four years old, Sam Abernathy was trapped at the bottom of a well for three days, where he was teased by a smart-aleck armadillo named Bartleby. Since then, his parents plan every move he makes.

But Sam doesn't like their plans. He doesn't want to go to MIT. And he doesn't want to skip two grades, being stuck in the eighth grade as an eleven-year-old with James Jenkins, the boy he's sure pushed him into the well in the first place. He wants to be a chef. And he's going to start by entering the first annual Blue Creek Days Colonel Jenkins Macaroni and Cheese Cook-Off.

That is, if he can survive eighth grade, and figure out the size of the truth that has slipped Sam's memory for seven years.
About the Author
---
Andrew Smith is the author of several novels for young adults, including Winger, Stand-Off, 100 Sideways Miles, and the Michael L. Printz Honor Book Grasshopper Jungle. He lives in a remote area in the mountains of Southern California with his family, two horses, two dogs, and three cats. He doesn't watch television, and occupies himself by writing, bumping into things outdoors, and taking ten-mile runs on snowy trails.