Travelling to Work: Diaries 1988--1998 (Hardcover)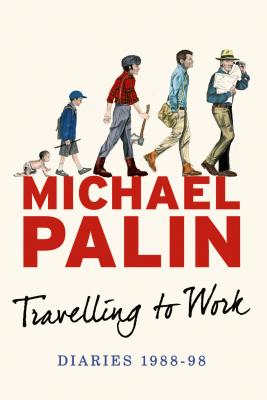 Description
---
As in Halfway to Hollywood and The Python Years, Travelling to Work contains a decade's worth of unedited, unabridged diary entries from multi-talented funnyman Michael Palin. In this volume, the last Palin has agreed to publish, the former Python documents his experience hosting a series of BBC travel documentaries even as he continues to develop new dimensions as a writer and actor.
Python faithful will love Palin's candid comments and wry wit even as they are awed by his dogged work ethic and myriad accomplishments. From his work for the BBC to his dramatic portrayal of the headmaster on Alan Bleasdale's award-winning drama GBH, to his success as screenwriter, playwright and novelist, these pages display a true modern-day Renaissance Man. Included as well are behind the scenes stories from the making of Fierce Creatures, the tumultuous follow-up to A Fish Called Wanda, along with Palin's reflections on dealings with his manager, editors and publishers--enough insider information to please any show business enthusiast.
In short, Travelling to Work is a roller-coaster ride driven by the Palin hallmarks curiosity, a sense of adventure and unflappable cool demonstrating he is truly, in his own words, 'someone grounded and safe who can be tempted into almost anything.'
About the Author
---
MICHAEL PALIN is a scriptwriter, comedian, novelist, television presenter, actor and playwright. He established his reputation with Monty Python's Flying Circus and Ripping Yarns. His work also includes several films with Monty Python, as well as The Missionary, A Private Function, A Fish Called Wanda, American Friends and Fierce Creatures. His television credits include two films for the BBC's Great Railway Journeys, the plays East of Ipswich and Number 27, and Alan Bleasdale's GBH. In 2006 the first volume of his diaries, 1969-1979: The Python Years, became an international bestseller. He has also written books to accompany his seven very successful travel series, Around the World in 80 Days, Pole to Pole, Full Circle, Hemingway Adventure, Sahara, Himalaya and New Europe. He is the author of a number of children's stories, the play The Weekend and the novel Hemingway's Chair.