Beluga (Paperback)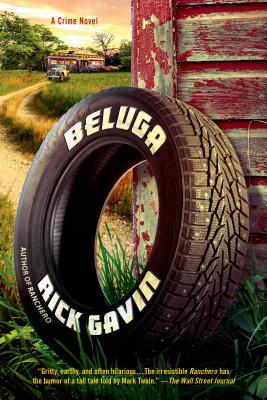 Description
---
"Stellar . . . a captivating and frequently hilarious series." "Publishers Weekly" (starred)
A few months ago Nick Reid and his compadre Desmond liberated some money from a nasty meth dealer, and now they need to launder it. After lending out a couple of thousand here and there, with hopes of getting a small return, all kinds of "investment opportunities" are coming out of the woodwork. And one of them has trouble written all over it.
The brother of Desmond's ex-wife wants a small sum to set up a scheme involving a trailer full of stolen tires. Which sets off all kinds of alarm bells, but Shawnica insists that Nick and Desmond help him out. In the next few days, they are set upon by a ninja schoolgirl assassin and a couple of Delta gangsters. Soon all thought of recouping their investment goes out the window, and they'll settle for staying alive.
The twists and turns and the dry wit that made "Ranchero" a delight are all on display once again in "Beluga," Rick Gavin's latest crime novel set in the Mississippi Delta.
About the Author
---
RICK GAVIN is the alter-ego of writer T. R. Pearson. The author of several works of fiction and nonfiction, including the acclaimed novels A Short History of a Small Place, Polar, and Blue Ridge, he lives in Virginia. Nowhere Nice is his third Nick Reid novel, after Ranchero and Beluga.
Praise For…
---
"Exciting, violent, gritty, and often very funny, and the knowing portrait of a region largely unknown to most readers is almost revelatory." —Booklist (starred)

"Gavin updates the good-old-boy charm of the Smokey and the Bandit movie series but adds some sharp narration by a hero who's still plenty dumb enough to get into some seriously funny trouble." —Kirkus Reviews

"Gavin turns out phrase after phrase of ear-pleasing insight into the Delta and those who live there, and dialogue that sounds just right . . . And when Gavin waxes funny, he really is funny." —The Associated Press on Ranchero