One Bowl Baking: Simple, From Scratch Recipes for Delicious Desserts (Paperback)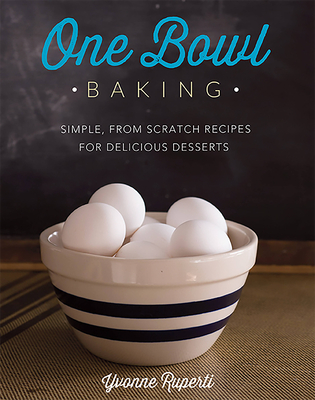 $24.20
Usually Ships in 1-5 Days
Description
---
Yvonne Ruperti, recipe developer extraordinaire, will tempt readers into the kitchen with a uniquely simplified approach to baking. In this one-of-a-kind recipe collection, Yvonne shows how to create beautiful, delicious, and wholesome desserts from scratch using just one bowl. No mixer, no food processor. It's for anyone looking for the ease and convenience of box mix baking, but with quality ingredients and gourmet results. Best of all, practically all of the recipes are mixed and in the oven in just 15 minutes or less. That's it!
One Bowl Baking includes more than 100 effortless recipes for all types of super delicious treats, including:
Layer cakes
Cookies
Muffins
Scones
Tarts
Cheesecakes
And more!


About the Author
---
Yvonne Ruperti appeared on the Emmy-nominated cooking show, America's Test Kitchen for the past three seasons, and has been a recipe developer and writer for Cook's Illustrated magazine (1 million circulation)and is the author of The Complete Idiot's Guide to Easy Artisan Bread. She splits her time between Singapore, where she is tasting and experimenting with the local ingredients, and New York City. Follow her on Twitter @yvonneruperti.

Praise For…
---
"I love my stand mixer, but the concept of this book is hard to resist. … This is a great gift for a novice baker or anyone who prefers to be unplugged in the kitchen."
Chosen as one of the Best Baking Books for 2013- Bakepedia - The Baker's Resource ®

"We'd like to give Yvonne Ruperti, author of One Bowl Baking, a collective fist bump. She's put together a cookbook filled with uncomplicated treats that don't involve hand mixers, stand mixers, or food processors. Plus, many of the recipes come together in about 15 minutes. Perfect for those of us who are busy—a.k.a. all of us."
—Redbook

"Whether you're a novice baker just looking to make a pan of brownies or an experienced one intending to bake multiple, crowd-pleasing treats, "One Bowl Baking" rises to the occasion."
—The Christian Science Monitor

"For bakers with tiny urban kitchens who are short on time, or simply have an aversion to a sink full of dishes, Ruperti's title is the ideal guide... Headnotes include mini-memoir moments, ranging from the author's high school days and waitressing days to her experiences as a pastry chef, personalizing this delightful, well-designed and well-photographed title."
—Publishers Weekly