Mozart: A Life (Hardcover)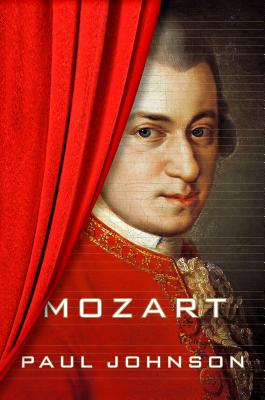 $25.95
This book may require a special order. Please call us for price & availability: (316) 682-1181.
Description
---
Eminent historian Paul Johnson dazzles with a rich, succinct portrait of Mozart and his music
As he's done in "Napoleon," "Churchill," "Jesus," and "Darwin," acclaimed historian and author Paul Johnson here offers a concise, illuminating biography of Mozart. Johnson's focus is on the music Mozart's wondrous output of composition and his uncanny gift for instrumentation.
Liszt once said that Mozart composed more bars than a trained copyist could write in a lifetime. Mozart's gift and skill with instruments was also remarkable as he mastered all of them except the harp. For example, no sooner had the clarinet been invented and introduced than Mozart began playing and composing for it.
In addition to his many insights into Mozart's music, Johnson also challenges the many myths that have followed Mozart, including those about the composer's health, wealth, religion, and relationships. Always engaging, Johnson offers readers and music lovers a superb examination of Mozart and his glorious music, which is still performed every day in concert halls and opera houses around the world.
About the Author
---
Paul Johnson is an acclaimed historian and author. In addition to his many biographies, his books also include "A History of the American People" and "Modern Times." He has contributed to "Forbes," "The Wall Street Journal," "The New York Times," and many others. He lives in London.
Praise For…
---
Praise for Mozart by Paul Johnson:

"Historian Johnson lauds everyone's favorite composer so as to pique the interest of every reader. . . . Johnson starts debunking myths on the first page . . . [and] they all crumble under his commonsense presentation of evidence. An altogether excellent primer on possibly the most complete musician who ever lived."
—Booklist (starred review)

"Most satisfying . . . A highly accessible initial foray into an astonishing, and inexhaustible, subject."
—Cleveland Plain Dealer

"Impassioned . . . Johnson captures the depth of Mozart's achievement with a scholarly fan's . . . enthusiasm. . . . A compact and knowledgeable portrait of genius."
—Kirkus Reviews
 
"Johnson packs a great deal of information into these pages . . . and his grasp of Mozart's musical output is astounding, his description of Mozart's works comprehensive and enlightening. . . . This is a solid, and often fresh, introduction to the life and work of the composer." —Publishers Weekly

"The perfect stocking stuffer . . . A portrait of Wolfgang Amadeus Mozart that will give pleasure to and increase the understanding of old Mozart hands as well as those reading for the first time about the man . . . Like his latest subject, Johnson never strikes a false note."
—The American Spectator

"Excellent . . . A delightful, concise read. It's fun—like listening to Mozart is. . . . To learn about the life of such a remarkable musician is a treat and a privilege. Paul Johnson has made Mozart's story accessible and rewarding."
—Washington Independent Review of Books
 
"This short, pithy, intelligent book will appeal to music lovers and general readers."
—Hudson Valley News