Anatomy of a Miracle: A Novel* (Paperback)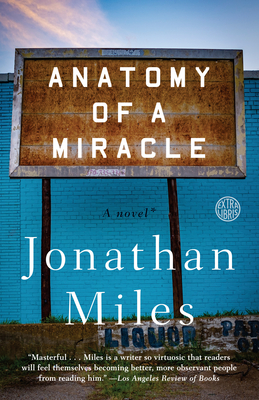 Staff Reviews
---
Cameron Harris, the protagonist of Jonathan Miles's third novel (after Dear American Airlines and Want Not), is in need of a miracle. And Anatomy of a Miracleis the funny, clever, moving story of this Biloxi, Miss., vet who returns from Afghanistan paralyzed from the waist down. 
On a trip to the Biz-E-Bee convenience store for cigarettes and beer under the watchful eye of his mouthy sister, Tanya, Cameron's four years in a wheelchair come to an abrupt end when a surge from within propels him upright and walking. Told in a long journalism format, Anatomy of a Miracle reconstructs this inexplicable medical event from the before to the more bizarre after. It is a remarkable combination of medical mystery, satire and war story. Like Ben Fountain's Billy Lynn's Long Halftime Walk, it captures the long-lasting effects of war by focusing on those for whom war is only a tangential thing somewhere far away.
An odd place for a miracle, the rundown Mississippi Gulf resort town of Biloxi "doesn't mind the smell of fish guts." When word of Cameron's recovery spreads, the town is swarmed with religious kooks and pilgrims. The local Catholic priest, who's built his parish "like a cowboy: galloping hard to drive his herd forward, hooting at the stragglers, lassoing the wayward," is one of the first to visit Cameron and cajole him into attending Mass. He's a subscriber to the "Toyotathon school of miracles: that every so often God performs a miracle as a means to fill the pews." 
Besieged by the horde of tourists, the Vietnamese immigrant owners of the Biz-E-Bee fill their shelves with religious knick-knacks--although this runs off the regulars who refuse "to wait in a line five-deep to buy a can of chew... [and] walk past someone kneeling on the asphalt speaking in tongues." Even a Hollywood reality TV producer comes knocking after successfully pitching studios: "You've got your God s**t. you've got your war vet stuff, you've got America." Amid all this hubbub, Cameron's skeptical VA doctor combs the medical records to uncover the scientific reason "this one boy managed to switch his transmission out of park."
While Miles can be canny and hilarious about the absurdities of all this miracle whoop-de-do, he also steps back to explore what it might mean if one's life were suddenly changed from hopeless dependency to the freedom to be "normal" again. The backstory of Cameron's difficult life and war years are revealed through the painstaking investigation of a "miracle verifier" sent by the Vatican. Cameron and Tanya were on their own after their father ran off and their mother was killed in a car wreck. They cobbled their shotgun house back together after Hurricane Katrina devastated the Biloxi coast. A high school outcast, Cameron buried his troubles in the predictability of the military, until his life was blown apart. Although he gets a miracle he never expected, Cameron finds that a return to "normal" is not all it's cracked up to be. After the laughs subside, Anatomy of a Miracle leaves one pondering all the "what ifs" in life.
Bruce Jacobs's review first appeared in Shelf Awareness. 
— Bruce Jacobs
March 2018 Indie Next List
---
"A priest, a doctor, and a reality TV producer walk into a convenience store... Actually, the notable walker in this story is Cameron Harris, a paralyzed soldier who inexplicably rises from his wheelchair and starts walking in the Biz-E-Bee parking lot. Anatomy of a Miracle follows Harris and the aforementioned sundry characters in the aftermath and dissection of this reported 'miracle.' Was it science? Was it divine? Was it a hoax? Will it make for a hit TV show? Jonathan Miles' charming - and often humorous - novel explores the varying perspectives on faith, truth, and the unexpected consequences of the miraculous."
— Lelia Nebeker, One More Page, Arlington, VA
Description
---
"Funny, bighearted...Miles specializes in giving fully rounded humanity to characters who might elsewhere be treated as stock figures...pitch-perfect."
— New York Times Book Review

"Miles is a writer so virtuosic that readers will feel themselves becoming better, more observant people from reading him."
— Los Angeles Review of Books

A profound new novel about a paralyzed young man's unexplainable recovery—a stunning exploration of faith, science, mystery, and the meaning of life
 
Rendered paraplegic after a traumatic event four years ago, Cameron Harris has been living his new existence alongside his sister, Tanya, in their battered Biloxi, Mississippi neighborhood where only half the houses made it through Katrina. One stiflingly hot August afternoon, as Cameron sits waiting for Tanya during their daily run to the Biz-E-Bee convenience store, he suddenly and inexplicably rises up and out of his wheelchair.
 
In the aftermath of this "miracle," Cameron finds himself a celebrity at the center of a contentious debate about what's taken place. And when scientists, journalists, and a Vatican investigator start digging, Cameron's deepest secrets—the key to his injury, to his identity, and, in some eyes, to the nature of his recovery—become increasingly endangered. Was Cameron's recovery a genuine miracle, or a medical breakthrough? And, finding himself transformed into a symbol, how can he hope to retain his humanity?
 
Brilliantly written as closely observed journalistic reportage and filtered through a wide lens that encompasses the vibrant characters affected by Cameron's story, Anatomy of a Miracle will be read, championed, and celebrated as a powerful story of our time, and the work of a true literary master.
About the Author
---
JONATHAN MILES is the author of the novels Dear American Airlines and Want Not, both New York Times Notable Books. He is a former columnist for the New York Times, has served as a Contributing Editor to magazines ranging from Details to Field & Stream, and his journalism has been frequently anthologized in Best American Sports Writing and Best American Crime Writing. He is also the author of a book on fish and game cookery, The Wild Chef, and competed in the Dakar Rally, an off-road race through Africa.
Praise For…
---
Praise for Anatomy of a Miracle

"Funny, bighearted...Miles specializes in giving fully rounded humanity to characters who might elsewhere be treated as stock figures...pitch-perfect."
— New York Times Book Review

"Jonathan Miles's masterful new novel Anatomy of a Miracle documents the slo-mo explosion of an attention-grabbing event with trompe l'oeil flourishes...Miles is a writer so virtuosic that readers will feel themselves becoming better, more observant people from reading him... Part of why Anatomy feels so expansive is that Miles takes every opportunity to delve into the characters' backstories... but this keen interest in people is part and parcel of a book in which the author describes humans as 'extraordinary' at least three times. In Miles's world, everyone — not just the people shouting loudest on the internet — is worthy of attention."
— Los Angeles Review of Books

"The impossible happens in... Jonathan Miles's latest novel, Anatomy of a Miracle. But it's what occurs before the astonishing event and what unspools after that will break open hearts and imaginations... Miles's powerful prose nudges readers to seek the soft spots between faith and judgment, story and science, and fact and fiction."
— CJ Lotz, Garden & Gun

"Anatomy of a Miracle by Jonathan Miles is a novel that reads like a true story. It's about a US veteran whose paralysis from the War in Afghanistan is miraculously cured. Cue a media frenzy and you finishing this story in days."
— TheSkimm

"Brilliant, moving, suspenseful, funny, rich, and humane….by far his best work. It's a robust and powerful story about humanity, hope, loss, and courage. And LOVE. Cannot recommend it highly enough, truly!"
—Elizabeth Gilbert, author of Eat, Pray, Love and Big Magic, on Instagram

"Heartbreaking and laugh-out-loud funny."
— Books Inc, in the San Francisco Chronicle

"[Anatomy of a Miracle] is a remarkable combination of medical mystery, satire and war story. Like Ben Fountain's Billy Lynn's Long Halftime Walk, it captures the long-lasting effects of war by focusing on those for whom war is only a tangential thing somewhere far away."
— Shelf Awareness

"Jonathan Miles' smart exploration of everything from the excesses of American popular culture to the deepest aspects of religious belief roars to life... A vivid portrait of our need to believe and its unintended consequences... Anatomy of a Miracle is a thoughtful modern morality play that's as current as the latest internet meme and as timeless as the foundations of faith"
— BookPage

"Miles possesses a rare and admirable command of structure and style, shifting smoothly from Afghan patrol tactics to Catholic doctrine to neurological science; his sentences are thick with data, wittily delivered. … An expertly shaped tale about faith in collision with contemporary American culture." 
— Kirkus (starred review)

"Vibrant, bustling, and humorous... Cleverly shaped as a journalistic report, and told in a style similar to that of John Jeremiah Sullivan and Ron Currie, Miles' tale offers a nuanced and endlessly entertaining exploration of the age-old debate between faith and reason."
— Booklist

"With sincerity and wit, Miles pens a strong, sardonic rumination on the religious boundaries of the miraculous."
— Library Journal

"Affecting."
— Publishers Weekly

"Jonathan Miles has written a novel whose comic moments alone make it a wonderful read, but Anatomy of a Miracle quickly becomes so much more: an intense, and intensely profound, meditation on how an extraordinary event might test the limits of both scientific and religious belief. What a superb writer; what a superb book."
—RON RASH,  New York Times bestselling author of Serena and Above the Waterfall


Praise for Dear American Airlines:

"Wildly entertaining…not just philosophically but emotionally rewarding."
—Richard Russo, New York Times Book Review
 
"This is writing that pulls no punches...There's a satirist's edge to [it], an over-the-top sensibility reminiscent of Tibor Fischer and John Kennedy Toole. Satire, to be sure, is part of the point, but Miles is after something bigger—a story of reconciliation, of redemption, of a character trying to become unstuck.
—David Ulin, Los Angeles Times

"A flinty, funny, irreverent, and heartbreaking first novel. The writing reminded me of brilliant, early-days Martin Amis—except with redemption and hope. It's not easy to write a book this good, but Jonathan Miles makes it seem effortless."
—Elizabeth Gilbert, author of Eat, Pray, Love
 
"Miles is a rare original who has pity and sympathy for almost everybody. Bravo."
—Barry Hannah, author of Airships
 
"I loved this novel, which is strong medicine indeed."
—Jim Harrison, author of Legends of the Fall


Praise for Want Not:

"Well, I loved this book. I don't know if it helps you or anyone to delay that assessment, so I won't. Jonathan Miles can write, and here he's written a wonderful book, and there's no one I would not urge to read it...This is the work of a fluid, confident and profoundly talented writer who gets more fluid, more confident and seemingly more talented even within the book itself. As it progresses, Want Not so assuredly accumulates power and profundity and momentum that I read the last 200 pages without pause."
—Dave Eggers, The New York Times Book Review

"Immensely satisfying…while [Mr. Miles] is presumably capable of writing a bad sentence, he doesn't do so here, despite the big swings he often takes with his prose…gripping and memorable." —New York Times

"With a light Midas touch, Miles turns all the glut and ache of late America into pure gold...Read this book. It is warm, complex, comic, honest, and never flinching. Want Not wastes not a word, while its pleasures are endless."
—Joshua Ferris, author of To Rise Again at a Decent Hour
 
"A powerful, blisteringly funny novel...Miles mines the depths of waste so artfully that by the end of this extraordinary novel, we're left with the suspicion that redemption may well be no more, and no less, than an existential salvage operation."
—Ben Fountain, author of Billy Lynn's Long Halftime Walk