Encounters with Jesus: Unexpected Answers to Life's Biggest Questions (Hardcover)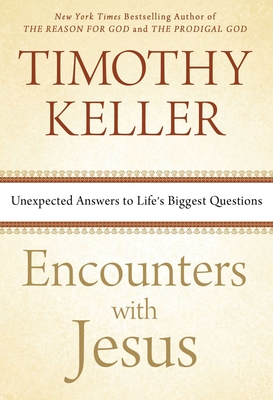 $19.95
Usually Ships in 1-5 Days
Description
---
Renowned pastor and New York Times bestselling author of The Prodigal Prophet Timothy Keller shows how people were changed when they met Jesus personally—and how we can be changed today through our own encounter with him.
 
What is my purpose in life? What is a good life? Why is there so much wrong with our world? What can I do to help make it right? These are some of the big questions that everyone must answer. And any lasting change in our lives will start with a change to one or more of our answers to these questions. 
 
Jesus changed the life of every person he met in the Gospels, through powerful experiences and words that led them to unexpected and transforming answers to their big questions. These conversations can still address our questions and doubts today. Originally published as an eSeries, Encounters with Jesus focuses on several of these meetings — including with a skeptical student, a religious insider, an outcast, even Jesus' mother — and shows how the central events in Jesus' life provide ways for us to encounter him again or for the first time.
About the Author
---
Timothy Keller was born and raised in Pennsylvania and educated at Bucknell University, Gordon-Conwell Theological Seminary, and Westminster Theological Seminary. His first pastorate was in Hopewell, Virginia. In 1989 he started Redeemer Presbyterian Church in New York City with his wife, Kathy, and their three sons. Today, Redeemer has nearly six thousand regular Sunday attendees and has helped to start more than three hundred new churches around the world. He is the author of Hidden Christmas, Making Sense of God, The Songs of Jesus, Preaching, and Prayer, as well as The Meaning of Marriage, The Prodigal God, and The Reason for God, among others.
Praise For…
---
Praise for Timothy Keller and Encounters with Jesus

"Keller's work belongs on the bookshelf of every serious Bible student. It is not a quick read, but, instead should be savored like fine wine, one sip at a time to glean the full impact of his life-changing message." —Examiner

"Keller has mined the gold from these texts of Scripture, and any Christian is bound to have their minds expanded and hearts stirred, even if they have read these accounts countless times." —Grace for Sinners

"Tim Keller's ministry in New York City is leading a generation of seekers and skeptics toward belief in God. I thank God for him." —Billy Graham

"Unlike most suburban megachurches, much of Redeemer is remarkably traditional. What is not traditional is Dr. Keller's skill in speaking the language of his urbane audience. . . . It's easy to understand his appeal." —The New York Times

"Reverend Tim Keller [is] a Manhattan institution, one of those open urban secrets, like your favorite dim sum place, with a following so ardent and so fast-growing that he has never thought to advertise." —Newsweek 

"The most successful Christian Evangelist in [New York City] . . . With intellectual, brimstone-free sermons that manage to city Woody Allen alongside Matthew, Mark, Luke, and John, Keller draws some five thousand young followers every Sunday. Church leaders see him as a model of how to evangelize urban centers across the country, and Keller has helped 'plant' fifty gospel-based Christian churches around New York plus another fifty from San Francisco to London." —New York 

"Using literature, philosophy, and pop culture, the author gives convincing reasons for a strong belief in God. It is refreshing to read a book that presents a religious view without being overly critical of the secular side presented in other books." —Library Journal 

"It's a provocative premise, in pursuit of which Keller—known for drawing cosmopolitan urbanites to his Redeemer Presbyterian Church in Manhattan—takes on nonbelievers from evolutionary biologists to the recent rash of atheist authors." —The Boston Globe