Seven for a Secret (Hardcover)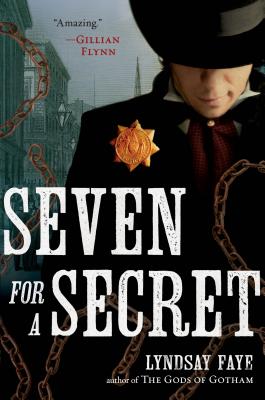 October 2013 Indie Next List
---
"This sequel to the delightfully fresh and entertaining Gods of Gotham is even more compelling and enjoyable as it brings 1840s Manhattan to vivid life. 'Copper star' policeman Timothy Wilde sets out to help a woman whose sister and son have been stolen by slave-catchers. With the help of a charming cast of street denizens, Wilde does his best to protect the people who need his help, including his decadent brother Valentine, while ruthless and dangerous people -- possibly even his brother -- try to stop him. Absolutely wonderful!"
— Carol Schneck Varner, Schuler Books & Music, Okemos, MI
Description
---
From Edgar-nominated author Lyndsay Faye comes what Gillian Flynn calls a brilliant new mystery.
One of "The Wall Street Journal"'s Ten Best Mysteries of the Year
Six months after the formation of the NYPD, its most reluctant and talented officer, Timothy Wilde, thinks himself well versed in his city's dark practices until he learns of the gruesome underworld of lies and corruption ruled by the blackbirders, who snatch free Northerners of color from their homes, masquerade them as slaves, and sell them South to toil as plantation property.
The abolitionist Timothy is horrified by these traders in human flesh. But in 1846, slave catching isn t just legal it's law enforcement.
When the beautiful and terrified Lucy Adams staggers into Timothy's office to report a robbery and is asked what was stolen, her reply is, My family. Their search for her mixed-race sister and son will plunge Timothy and his feral brother, Valentine, into a world where police are complicit and politics savage, and corpses appear in the most shocking of places. Timothy finds himself caught between power and principles, desperate to protect his only brother and to unravel the puzzle before all he cares for is lost.
About the Author
---
Lyndsay Faye is the author of critically acclaimed "Dust and Shadow "and "The Gods of Gotham," which was nominated by the Edgars for Best Novel if you were to ask her, she would say she writes hero stories. Faye, a true New Yorker in the sense she was born elsewhere, lives in Manhattan with her husband, Gabriel."
Praise For…
---


Praise for Seven for a Secret:

"This is a series for the ages, it's so spectacular. Amazing." —Gillian Flynn

"One of the year's best mysteries." —Tom Nolan, The Wall Street Journal

"This gripping, beautifully written, chilling, heartbreaking, and exciting novel by Lyndsay Faye is a completely immersive experience. . . . filled with vivid characterization, beautiful language, period slang, a gorgeous plot, and with incredibly evocative settings and heartbreaking twists of fate. In short, this is an amazingly rich story, worthy of the word 'epic' . . . . This is definitely one of the finest crime novels of the year." —Mystery Scene

"[A]tmospheric and exciting ... Lyndsay Faye's book is swift but poignant, full of violent encounters and thrilling escapes." —The Wall Street Journal

"As was the case in The Gods of Gotham, Faye folds a blistering indictment of prejudice and persecution of the defenseless within a satisfying complex mystery. . . . Vividly atmospheric; the thieves' slang all by itself evokes 19th-century New York with wonderful specificity. Let's hope Faye finds more dirty work for her intriguingly conflicted hero." —Kirkus Reviews

"Faye once again skillfully evokes the early days of the NYPD in this gripping and moving sequel to 2012's The Gods of Gotham, an Edgar finalist. . . . Simple but effective prose, a brilliantly constructed plot, and three-dimensional characters add up to another winner for Faye." —Publishers Weekly, starred review

"Superlative historical mystery."—Booklist

"Faye's first novel won popular and critical success with its pairing of early police work and the criminal underworld of 19th-century New York. Her second novel is doubly impressive."—Library Journal, starred review 

Praise for Lyndsay Faye and The Gods of Gotham:

"The launch of a brilliant new mystery series, set in 1845 New York City: Irish Potato Famine, the birth of the police force, brothels and bedlam." —Gillian Flynn, #1 New York Times–bestselling author of Gone Girl



"A wonderful book. Lyndsay Faye's command of historical detail is remarkable and her knowledge of human character even more so. I bought into this world in the opening pages and never once had the desire to leave. It's a great read!" —Michael Connelly
 
" New York has inspired lots of terrific thrillers, but I've just stumbled on one of the worthiest successors yet [to The Alienist]. Lyndsay Faye's novel, The Gods of Gotham."—Maureen Corrigan, NPR's Fresh Air



"If your concept of paradise is popping in a DVD of Gangs of New York while rereading Caleb Carr's The Alienist, then put Lyndsay Faye's The Gods of Gotham on your to-buy list."—USA Today



"Riveting."—The New York Times



"Lyndsay Faye is a superstar-caliber writer. She confidently and exquisitely re-creates the past while her characters live on with you in the present, the elusive gold standard for a historical novel. The Gods of Gotham  is a gift to the genre that readers will surely relish while we wait for Faye's next one." —Matthew Pearl, bestselling author of The Dante Club
 
"Intriguingly complex yet deliciously smooth, The Gods of Gotham is, in a word, stunning. The vivid characters and deft use of the historical setting read like the work of an established writer at the top of her (or indeed, his) career—that Faye is a newcomer is cause for an exuberance of fireworks, at the mere thought of so many superb novels yet to come." —Laurie R. King, New York Times–bestselling author of The God of the Hive and Pirate King
 
"A revelation. Lyndsay Faye puts the drive and passion of a modern thriller onto the mean streets of 1840s New York. She brings a fascinating page of history to life with a gripping, twisty plot, vivid characters, and seamless research. This is historical fiction at its best." —Daniel Stashower, two-time Edgar Award–winning author of Teller of Tales and The Beautiful Cigar Girl 
 
"Enthralling . . . immediately pulls readers into its twisting tale of murder, conspiracy, and socioreligious turmoil. With an engaging narrator, smart rendering of time and place, and gripping suspense, this superb story is virtually impossible to put down." —Stefanie Pintoff, Edgar Award–winning author of In the Shadow of Gotham
 
"Exquisite . . . Faye's prose crackles with historical authenticity so cunningly rendered that readers will lose themselves from the very first turn of the page." —Katherine Howe, bestselling author of The Physick Book of Deliverance Dane