The Better Sister: A Novel (Hardcover)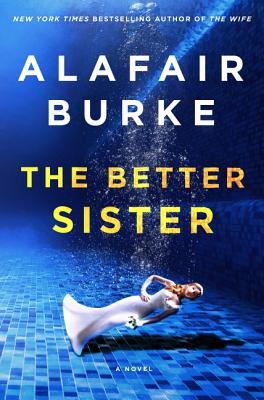 Staff Reviews
---
"Chloe, the younger of the Taylor sisters, is married to her sister Nicky's ex-husband Adam. When Adam is murdered by an intruder at the couple's East Hampton beach house, Chloe reluctantly allows her teenage stepson's biological mother—her estranged sister, Nicky—back into her life."
If that plot summary doesn't inspire you to keep reading, I don't know what will! Unraveling the relationship of the Taylor sisters, and their tumultuous history was more intriguing to me than the murder itself. Both sisters are strong-willed and come with their own unique way of viewing each other. How could Chloe marry her sister's husband and raise her nephew? What lead these sisters to be so antagonistic to one another? Who killed the man they both loved?
You'll have to read to find out!
— Lauren Messamore
Description
---
Recommended by Amazon, Barnes & Noble, Entertainment Weekly, Popsugar, Goodreads, CrimeReads, and BookBub.
Keep your enemies close and your sister closer.
Though Chloe was the younger of the two Taylor sisters, she always seemed to be the one in charge. She was the honor roll student with big dreams and an even bigger work ethic. Nicky—always restless and more than a little reckless—was the opposite of her ambitious little sister. She floated from job to job and man to man, and stayed close to home in Cleveland.
For a while, it seemed that both sisters had found happiness. Chloe earned a scholarship to an Ivy League school and moved to New York City, where she landed a coveted publishing job. Nicky married promising young attorney Adam Macintosh and gave birth to a baby boy they named Ethan. The Taylor sisters became virtual strangers.
Now, more than fifteen years later, their lives are drastically different—and Chloe is married to Adam. When he's murdered by an intruder at the couple's East Hampton beach house, Chloe reluctantly allows her teenage stepson's biological mother—her estranged sister, Nicky—back into her life. But when the police begin to treat Ethan as a suspect in his father's death, the two sisters are forced to unite . . . and to confront the truth behind family secrets they have tried to bury in the past.
About the Author
---
Alafair Burke is a New York Times bestselling author whose most recent novels include The Wife and The Ex, which was nominated for the Edgar Award for best novel. She also co-authors the bestselling Under Suspicion series with Mary Higgins Clark. A former prosecutor, she now teaches criminal law and lives in Manhattan and East Hampton.
Praise For…
---
"Alafair Burke's name on the cover always guarantees a stellar read, and this novel is no exception. Elements of other domestic thrillers are in abundance, but the author knows how to take what could easily be cliché and make it feel brand-new. The realistic family relationship carries this story to great heights and wonderful surprises."
— Associated Press

"Cunning.... Readers of The Better Sister, Alafair Burke's wonderfully twisty new thriller, should get ready to be led down the garden path to a conclusion so morally ambiguous a professional ethicist might have to be called in."
— Washington Post

"Coming off of last year's brilliantly timely The Wife, psychological-suspense master Burke traces the uneasy relationship between two sisters and how it's tested in the wake of a grisly murder."
— Entertainment Weekly

"As always, Burke keeps the book's action fast-paced and full of surprises. Her novels are sometimes compared to all those Girl in the Whatever bestsellers, and it's true she twists a plot with the best of them. But Burke's characters aren't girls, they're women, and her books are the better for it."
— Tampa Bay Times

"Burke hits the ground running with the highly entertaining The Better Sister, and the story continues to peak in one believable twist after another. Surprises lead The Better Sister to a sizzling finale."
— South Florida Sun Sentinel

"Compelling.... In addition to the powerful characteristics of a thriller, The Better Sister is also a psychological investigation of social media, gender in business, childrearing, and family ties."
— New York Journal of Books

"One hell of a rip-roaring read.... Taut-domestic-and-courtroom-thriller aspects aside, Burke is, as always, terrific on the salient cultural details that bring her characters to vibrant life."
— The Seattle Review of Books

"The Better Sister" is more than a standard-issue whodunit. The underlying mystery becomes the mystery of character. . . . [Burke] caps her story with a keenly detailed trial taut with suspense. The case spins with reversals — it isn't over even when it's over."
— Newsday

"The fans who put Burke's last domestic thriller on the bestseller list are going to be happy with this one, a gimmick-free murder mystery with a two-stage surprise ending and uncommonly few credibility straining plot elements…. You'll kill this one fast and be glad you did."
— Kirkus

"Mesmerizing.... Burke paints a poignant portrait of sisterhood and sacrifice with this twist-riddled, character-driven whodunit."
— Publishers Weekly

"Boasting Burke's trademark blend of everywoman investigations mixed with courtroom drama, this twisty thriller is destined to become a vacation-reading favorite."
— Booklist

"A straightforward and uncomplicated character-driven mystery that also delves into the topics of sisterhood and abuse. Mystery lovers will find much to enjoy in this fast-moving whodunit."
— Library Journal

"Burke has a flair for creating compelling characters who bring out a plethora of emotions from the reader. A worthy follow-up to last year's smash The Wife. Do not miss!"
— Tulsa Book Review

"A brilliant look at the lengths a mother (or two) will go for family."
— BookPage

"If you love twisty thrillers like we do, you won't want to miss The Better Sister."
— BookBub

"Sure to be one of the year's most celebrated suspense novels....Burke brings readers into an enticing world and then shatters them with one startling revelation after another, always keeping a firm grip on the suspense and packing each sentence full with feeling."
— CrimeReads

"You know just from the title that this is going to be a winner; you also know it's a "must read" from the simple fact that Alafair Burke is the author….A non-stop thriller fest."
— Suspense Magazine

"Chilling and thrilling....Will keep you engaged from start to finish."
— FreshFiction